How a Franklin Electric 6" pump system brought the Bardolino fountain back into operation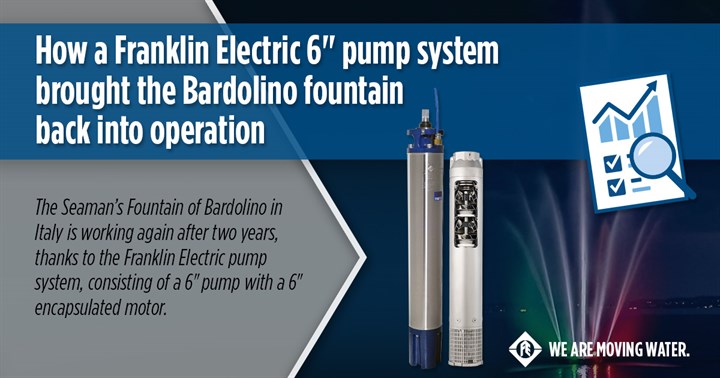 The Seaman's Fountain of Bardolino in Italy is working again after two years, thanks to the Franklin Electric pump system, consisting of a 6" pump with a 6" encapsulated motor.
Pressure boosting for water games
The musical fountain of Bardolino on the shores of Lake Garda, designed in 2001, was finally back to bubble again after two years of standstill, thanks to a visual and technical redesign by a local company. The new system consists of a 6" pump system from Franklin Electric, which was provided by the company Idroagrifer in Pastrengo (VR). Idroagrifer is a Franklin Electric distributor of borehole systems in the Veneto and Trentino Alto Adige area.

In this type of ornamental fountain, the pump system pushes the water through jet nozzles. This increases the pressure and the fountains reach the desired height.

The 6" systems from Franklin Electric consist of a 6" encapsulated submersible motor and a 6" Stainless steel submersible pump, which are characterised by high reliability and durability.
Reliability and robustness
Franklin Electric's submersible motors allow power ratings up to 45 kW and are equipped with hermetically sealed windings. This anti-tracking system provides mechanical support, isolates the winding in the stator and ensures rapid heat dissipation.
The motors are equipped with the SandFighter® sealing system with SiC/SiC mechanical seal and sand protection as standard. The hydrodynamic liquid-lubricated radial bearings and heavy-duty Kingsbury type thrust bearing also ensure 100% maintenance-free operation.

The 6" submersible pumps of the VS series are made of Stainless steel and guarantee a long service life. Thanks to the proven components, this pump can withstand the toughest environments. It is suitable for flow rates up to 80 m³/h. The maximum permissible sand quantity for this series of submersible pumps is 100 g/m³.

The water installation is dedicated to Saint Alberti, a navy engine mechanic who went on board the submarine Topazio during the Second World War, which did not return to base in 1943 after a war mission.
 
Today, the sprinkler fountain, whose play of lights is reminiscent of the Italian colours, delights both tourists and locals walking along one of the most famous shores of Lake Garda. And thanks to the durable Franklin Electric integrated products, it will continue to do so for many years to come.
For more information about the products, please refer to the product sites or the attached pdf.